As we enter into this season of holiday gathering, we celebrate the simple joy of being together with loved ones with a deepened sense of appreciation. As we recreate our rituals, there is an opportunity to intentionally plant the seeds for moments of high quality connection – the kind that turn into lifelong memories. At the bottom of this email you'll find a gift, offered to support you in creating an experience of high quality connection as you gather for upcoming holidays and celebrations.
The free resource below is one of my most cherished movement exercises. Dancers use it to cultivate personal and interpersonal coherence at the beginning of rehearsals or before performances. I've used it with city government leaders, CEOs, third graders, and engineers. I've also done it with my whole family, including aunts, uncles and cousins. This experience is truly for all ages and all abilities. There's nothing quite like it for quickly invoking a sense of playful presence, laughter, and belonging.
This exercise has an appropriately delightful name, inspired by the cohesive movement of groups of birds:
FLOCKING.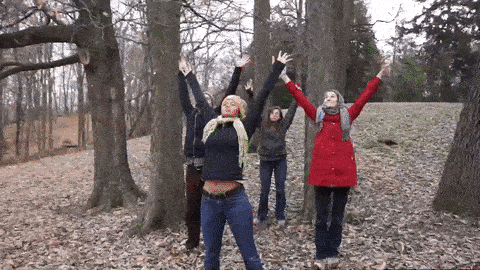 Having spent 15 years as a professional dancer before I became a cultural change agent and entrepreneur for systems change, Ensemble Leadership has deep roots in the dance studio. Dancers are pros at prioritizing relationships, building trust, and tuning into an emergent future together. Part of Mobius' mission is to bring these skills into institutions and organizations that are actively working to reinvent our world, and moving our bodies together is one of the practices at the heart of our approach.
If you don't have plans to get together with friends or family, you can also try it out in your classroom, team gathering, board meeting or conference. I can confidently say that incorporating this movement ritual will enhance whatever gathering you have planned. Flocking belongs in every space where you want to invite more laughter, belonging, vulnerability and courage.
Download the free FLOCKING PDF below:
Sign up here to get the instructions for facilitating flocking (virtually or in person) sent to your inbox. If you post your photos and videos on social media, be sure to include the hashtag #FlockingWithMobius – we'd love to see your adventures in flocking!
If you're tempted to offer flocking to a group, but you need a pep talk or have a question, get in touch and tell us about it: [email protected]. We'd love to help you make the leap from unsure to eager to flock!